The stress concept
Various definitions of stress have been formulated since the concept was first named and described by Hans Selye (Selye 1960). Almost invariably these definitions have failed to capture what is perceived as the essence of the concept by a major proportion of stress researchers.
The failure to reach a common and generally acceptable definition may have several explanations; one of them may be that the concept has become so widespread and has been used in so many different situations and settings and by so many researchers, professionals and lay persons that to agree on a common definition is no longer possible. Another explanation is that there really is no empirical basis for a single common definition. The concept may be so diverse that one single process simply does not explain the whole phenomenon. One thing is clear—in order to examine the health effects of stress, the concept needs to include more than one component. Selye's definition was concerned with the physiological fight or flight reaction in response to a threat or a challenge from the environment. Thus his definition involved only the individual physiological response. In the 1960s a strong interest arose in so-called life events, that is, major stressful experiences that occur in an individual's life. The work by Holmes and Rahe (1967) nicely demonstrated that an accumulation of life events was harmful to health. These effects were found mostly in retrospective studies. To confirm the findings prospectively proved to be more difficult (Rahe 1988).
In the 1970s another concept was introduced into the theoretical framework, that of the vulnerability or resistance of the individual who was exposed to stressful stimuli. Cassel (1976) hypothesized that host resistance was a crucial factor in the outcome of stress or the impact of stress on health. The fact that host resistance had not been taken into account in many studies might explain why so many inconsistent and contradictory results had been obtained on the health effect of stress. According to Cassel, two factors were essential in determining the degree of a person's host resistance: his or her capacity for coping and his or her social supports.
Today's definition has come to include considerably more than the physiological "Selye stress" reactions. Both social environ-mental effects as represented by (for instance) life events and the resistance or vulnerability of the individual exposed to the life events are included.
Figure 1. Components of stress in the stress-disease model of Kagan and Levi (1971)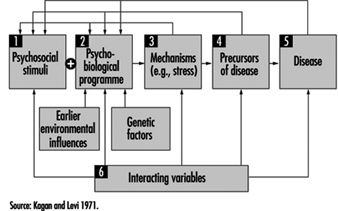 In the stress-disease model proposed by Kagan and Levi (1971), several distinctions between different components are made (figure 1). These components are:
stressful factors or stressors in the environment— social or psychological stimuli that evoke certain harmful reactions
the individual psychobiological programme, predetermined both by genetic factors and early experiences and learning
individual physiological stress reactions ("Selye Stress" reactions). A combination of these three factors may lead to
precursors which may eventually provoke the final outcome, namely 
manifest physical illness.
It is important to note, that—contrary to Selye's beliefs—several different physiological pathways have been identified that mediate the effects of stressors on physical health outcomes. These include not only the originally described sympatho-adreno-medullary reaction but also the action of the sympatho-adreno-cortical axis, which may be of equal importance, and the counterbalance provided by parasympathetic gastrointestinal neurohormonal regulation, which has been observed to dampen and buffer the harmful effects of stress. In order for a stressor to evoke such reactions, a harmful influence of the psychobiological programme is required— in other words, an individual propensity to react to stressors has to be present. This individual propensity is both genetically determined and based on early childhood experiences and learning.
If the physiological stress reactions are severe and long-standing enough, they may eventually lead to chronic states, or become precursors of illness. An example of such a precursor is hypertension, which is often stress-related and may lead to manifest somatic disease, such as stroke or heart disease.
Another important feature of the model is that the interaction effects of intervening variables are anticipated at each step, further increasing the complexity of the model. This complexity is illustrated by feed-back loops from all stages and factors in the model to every other stage or factor. Thus the model is complex—but so is nature.
Our empirical knowledge about the accuracy of this model is still insufficient and unclear at this stage, but further insight will be gained by applying the interactive model to stress research. For example, our ability to predict disease may increase if the attempt is made to apply the model.
Empirical evidence on host resistance
In our group of investigators at the Karolinska Institute in Stockholm, recent research has been focused on factors that promote host resistance. We have hypothesized that one such powerful factor is the health-promoting effects of well-functioning social networks and social support.
Our first endeavour to investigate the effects of social networks on health were focused on the entire Swedish population from a "macroscopic" level. In cooperation with the Central Swedish Bureau of Statistics we were able to evaluate the effects of self-assessed social network interactions on health outcome, in this case on survival (Orth-Gomér and Johnson 1987).
Representing a random sample of the adult Swedish population, 17,433 men and women responded to a questionnaire about their social ties and social networks. The questionnaire was included in two of the annual Surveys of Living Conditions in Sweden, which were designed to assess and measure the welfare of the nation in material as well as in social and psychological terms. Based on the questionnaire, we created a comprehensive social network interaction index which included the number of members in the network and the frequency of contacts with each member. Seven sources of contacts were identified by means of factor analysis: parents, siblings, nuclear family (spouse and children), close relatives, co-workers, neighbours, distant relatives and friends. The contacts with each source were calculated and added up to a total index score, which ranged from zero to 106.
By linking the Surveys of Living Conditions with the national death register, we were able to investigate the impact of the social network interaction index on mortality. Dividing the study population into tertiles according to their index score, we found that those men and women who were in the lower tertile had an invariably higher mortality risk than those who were in the middle and upper tertiles of the index score.
The risk of dying if one was in the lower tertile was four to five times higher than in the other tertiles, although many other factors might explain this association such as the fact that increasing age is associated with higher risk of dying. Also, as one ages the number of social contacts decrease. If one is sick and disabled, mortality risk increases and it is likely that the extent of the social network decreases. Morbidity and mortality are also higher in lower social classes, and social networks are also smaller and social contacts less abundant. Thus, controlling for these and other mortality risk factors is necessary in any analysis. Even when these factors were taken into account, a statistically significant 40% increase in risk was found to be associated with a sparse social network among those in the lowest third of the population. It is interesting to note that there was no additional health-promoting effect of being in the highest as compared to the middle tertile. Possibly, a great number of contacts can represent a strain on the individual as well as protection against harmful health effects.
Thus, without even knowing anything further about the stressors in the lives of these men and women we were able to confirm a health-promoting effect of social networks.
Social networks alone cannot explain the health effects observed. It is probable that the way in which a social network functions and the basis of support the network members provide are more important than the actual number of people included in the network. In addition, an interactive effect of different stressors is possible. For example the effects of work-related stress have been found to worsen when there is also a lack of social support and social interaction at work (Karasek and Theorell 1990).
In order to explore the issues of interaction, research studies have been carried out using various measures for assessing both qualitative and quantitative aspects of social support. Several interesting results were obtained which are illustrative of the health effects that have been associated with social support. For example, one study of heart disease (myocardial infarct and sudden cardiac death) in a population of 776 fifty-year-old men born in Gothenburg, randomly selected from the general population and found healthy on initial examination, smoking and lack of social support were found to be the strongest predictors of disease (Orth-Gomér, Rosengren and Wilheemsen 1993). Other risk factors included elevated blood pressure, lipids, fibrinogen and a sedentary lifestyle.
In the same study it was shown that only in those men who lacked support, in particular emotional support from a spouse, close relatives or friends, were the effects of stressful life events harmful. Men who both lacked support and had experienced several serious life events had more than five times the mortality of men who enjoyed close and emotional support (Rosengren et al. 1993).
Another example of interactive effects was offered in a study of cardiac patients who were examined for psychosocial factors such as social integration and social isolation, as well as myocardial indicators of an unfavourable prognosis and then followed for a ten-year period. Personality and behaviour type, in particular the Type A behaviour pattern, was also assessed.
The behaviour type in itself had no impact on prognosis in these patients. Of Type A men, 24% died as compared to 22% of Type B men. But when considering the interactive effects with social isolation another picture emerged.
Using a diary of activities during a regular week, men partici-pating in the study were asked to describe anything they would do in the evenings and weekends of a normal week. Activities were then divided into those that involved physical exercise, those that were mainly involved with relaxation and performed at home and those that were performed for recreation together with others. Of these activity types, lack of social recreational activity was the strongest predictor of mortality. Men who never engaged in such activities—called socially isolated in the study—had about three times higher mortality risk than those who were socially active. In addition, Type A men who were socially isolated had an even higher mortality risk than those in any of the other categories (Orth-Gomér, Undén and Edwards 1988).
These studies demonstrate the need to consider several aspects of the psychosocial environment, individual factors as well as of course the physiological stress mechanisms. They also demonstrate that social support is one important factor in stress-related health outcomes.