Elementary and secondary schools employ many different types of personnel, including teachers, teachers' aides, administrators, clerical personnel, maintenance personnel, cafeteria personnel, nurses and many others required to keep a school functioning. In general, school personnel face all the potential hazards found in normal indoor and office environments, including indoor air pollution, poor lighting, inadequate heating or cooling, use of office machines, slips and falls, ergonomics problems from poorly designed office furniture and fire hazards. Precautions are the standard ones developed for this type of indoor environment, although building and fire codes usually have specific requirements for schools because of the large number of children present. Other general concerns found in schools include asbestos (especially among custodial and maintenance workers), chipping lead paint, pesticides and herbicides, radon and electromagnetic fields (especially for schools built near high-voltage transmission power lines). Eye and respiratory complaints related to the painting of rooms and the tarring of school roofs while the building is occupied are also a common problem. Painting and tarring should be done when the building is not occupied.
Basic academic duties required of all teachers include: lesson preparation, which can include the development of learning strategies, copying of lecture notes and the making of visual aids such as illustrations, graphs and the like; lecturing, which requires presenting information in an organized fashion that arouses the attention and concentration of students, and can involve the use of blackboards, film projectors, overhead projectors and computers; writing, giving and grading examinations; and individual counselling of students. Most of this instruction takes place in classrooms. In addition, teachers with specialities in science, arts, vocational education, physical education and other areas will conduct much of their teaching in facilities such as laboratories, art studios, theatres, gymnasiums and the like. Teachers may also take students on class trips outside the school to locations such as museums and zoos.
Teachers also have special duties, which can include supervision of students in hallways and the cafeteria; attending meetings with administrators, parents and others; organization and supervision of after-school leisure and other activities; and other administrative duties. In addition, teachers attend conferences and other educational events in order to keep current with their field and advance their career.
There are specific hazards facing all teachers. Infectious diseases such as tuberculosis, measles and chicken pox can easily spread throughout a school. Vaccinations (both of students and teachers), tuberculosis testing and other standard public health measures are essential (see table 1). Overcrowded classrooms, classroom noise, overloaded schedules, inadequate facilities, career advancement questions, job security and general lack of control over working conditions contribute to major stress problems, absenteeism and burnout in teachers. Solutions include both institutional changes to improve working conditions and stress reduction programmes where possible. A growing problem, especially in urban environments, is violence against teachers by students and, sometimes, intruders. In the United States, many secondary-level students, especially in urban schools, carry weapons, including guns. In schools where violence is a problem, organized violence-prevention programmes are essential. Teachers' aides face many of the same hazards.
Table 1. Infectious diseases affecting day-care workers and teachers.
Disease

Where found

Mode of transmission

Comments

Amoebiasis

Especially tropics and subtropics

Water and food contaminated with infected faeces

Use good food and water sanitation.

Chicken pox

Worldwide

Generally person- to-person direct contact, but also possible by airborne respiratory droplets

Chicken pox is more serious in adults than children; risk of birth defects; reportable disease in most countries.

Cytomegalovirus (CMV)

Worldwide

Airborne respiratory droplets; contact with urine, saliva or blood

Highly contagious; risk of birth defects.

Erythema infectiosum (Parvovirus-B- 19)

Worldwide

Direct person-to- person contact or airborne respiratory droplets

Mildly contagious; risk to foetus during pregnancy.

Gastroenteritis, bacterial (Salmonella, Shigella, Campylobacter)

Worldwide

Person-to-person transmission, food or water via faecal- oral route

Use good food and water sanitation; require strict handwashing procedures; reportable disease in most countries.

Gastroenteritis, viral (Rotaviruses)

Worldwide

Person-to-person transmission, food or water via faecal- oral route; also by inhalation of dust containing virus

Use good food and water sanitation.

German measles (rubella)

Worldwide

Airborne respiratory droplets; direct contact with infected people

Risk of birth defects; all children and employees should be vaccinated; reportable disease in most countries.

Giardiasis (intestinal parasite)

Worldwide, but especially tropics and subtropics

Contaminated food and water; also possible by person- to-person transmission

Use good food and water sanitation; reportable disease in most countries.

Hepatitis A virus

Worldwide, but especially

Mediterranean areas and developing countries

Faecal-oral transmission, especially contaminated food and water; also possible by direct person-to-person contact

Risk of spontaneous abortions and stillbirths; use good food and water sanitation; reportable disease in most countries.

Hepatitis B virus

Worldwide, especially Asia and Africa

Sexual contact, contact of broken skin or mucous membranes with blood or other body fluids

Higher incidence in institutionalized children (e.g., developmentally disabled); vaccination recommended in high-risk situations; use universal precautions for all exposures to blood and other body fluids; reportable disease in most countries.

Herpes Simplex Type I and II

Worldwide

Contact with mucous membranes

extremely contagious; common in adults and age group 10 to 20 years.

Human Immune Deficiency Virus (HIV) infection

Worldwide

Sexual contact, contact of broken skin or mucous membranes with blood or other body fluids

Leads to Acquired Immune Deficiency Syndrome (AIDS); use universal precautions for all exposures to blood and body fluids (e.g., nosebleeds); anonymous reporting of disease required in most countries.

Infectious mononucleosis Epstein-Barr virus)

Worldwide

Airborne respiratory droplets; direct contact with saliva

Especially common in age group 10 to 20 years.

Influenza

Worldwide

Airborne respiratory droplets

Highly contagious; high-risk individuals should get immunization shots.

Measles

Worldwide

Airborne respiratory droplets

Highly contagious, but for adults mostly a risk to non-immunized individuals working with unvaccinated children; reportable disease in most countries.

Meningococcus meningitis bacterial)

Mostly tropical Africa and Brazil

Airborne respiratory droplets, especially close contact

Reportable disease in most countries.

Mumps

Worldwide

Airborne respiratory droplets and contact with saliva

Highly contagious; exclude infected children; may cause infertility in adults; outbreaks reportable in some countries.

Mycoplasma infections

Worldwide

Airborne transmission after close contact

A major cause of primary atypical pneumonia; mainly affects children aged 5 to 15 years.

Pertussis (whooping cough)

Worldwide

Airborne respiratory droplets

Not as severe in adults; all children under 7 years should be immunized.

Scabies

Worldwide

Direct skin-to-skin contact

Infectious skin disease caused by mites

Streptococcus infections

Worldwide

Direct person-to-person contact

Strep throat, scarlet fever and community-acquired pneumonia are examples of infections.

Tuberculosis (respiratory)

Worldwide

Airborne respiratory droplets

Highly infectious; tuberculosis screening should be conducted for all day care workers; a reportable disease in most countries.
Teachers in specialized classes can have additional occupational hazards, including chemical exposures, machinery hazards, accidents, electrical hazards, excessive noise levels, radiation and fire, depending on the particular classroom. Figure 1 shows an industrial arts metal shop in a high school, and figure 2 shows a high school science lab with fume hoods and an emergency shower. Table 2 summarizes special precautions, particularly substitution of safer materials, for use in schools. Information on standard precautions can be found in the chapters relevant to the process (e.g., Entertainment and the arts and Safe handling of chemicals).
Figure 1. Industrial arts metal shop in a high school.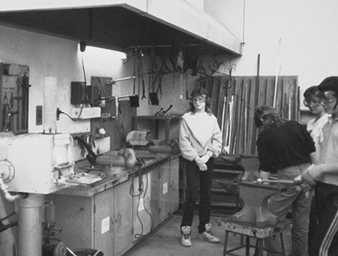 Michael McCann
Figure 2. High school science laboratory with fume hoods and an emergency shower.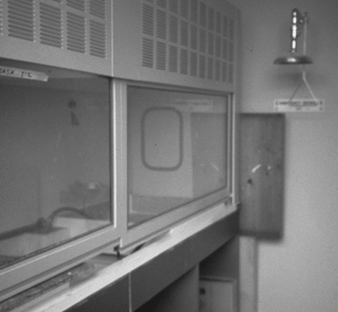 Michael McCann
Table 2. Hazards and precautions for particular classes.
Class

Activity/Subject

Hazards

Precautions

Elementary Classes

Science

Animal handling

 

 

Plants

 

Chemicals

 

 

Equipment

 

Bites and scratches, zoonoses, parasites

 

Allergies, poisonous plants

 

Skin and eye problems, toxic reactions, allergies

 

Electrical hazards, safety hazards

Allow only live, healthy animals. Handle animals with heavy gloves. Avoid animals which can carry disease-transmitting insects and parasites.

Avoid plants which are known to be poisonous or cause allergic reaction.

Avoid using toxic chemicals with children. Wear proper personal protective equipment when doing teacher demonstrations with toxic chemicals.

Follow standard electrical safety procedures. Ensure all equipment is properly guarded. Store all equipment, tools, etc., properly.

Art

Painting and drawing

 

Photography

 

Textile and fibre arts

 

Printmaking

 

 

 

Woodworking

 

 

 

Ceramics

 

Pigments, solvents

 

Photochemicals

 

 

Dyes

 

Acids, solvents

 

Cutting tools

 

Tools

 

Glues

 

Silica, toxic metals, heat,

kiln fumes

Use only non-toxic art materials. Avoid solvents, acids, alkalis, spray cans, chemical dyes, etc.

Use only children's paints. Do not use pastels, dry pigments.

Do not do photo processing. Send out film for developing or use Polaroid cameras or blueprint paper and sunlight.

Avoid synthetic dyes; use natural dyes such as onion skins, tea, spinach, etc.

Use water-based block printing inks.

Use linoleum cuts instead of woodcuts.

Use soft woods and hand tools only.

Use water-based glues.

Use wet clay only, and wet mop.

Paint pottery rather than using ceramic glazes. Do not fire kiln inside classroom.

 

Secondary Classes

Chemistry

General

 

 

 

 

 

Organic chemistry

 

 

 

 

 

 

Inorganic chemistry

 

Analytical chemistry

 

Storage

 

 

 

 

 

 

 

Solvents

 

 

 

Peroxides and explosives

 

 

Acids and bases

 

Hydrogen sulphide

 

Incompatibilities

 

 

Flammability

All school laboratories should have the following: laboratory hood if toxic, volatile chemicals are used; eyewash fountains; emergency showers (if concentrated acids, bases or other corrosive chemicals are present); first aid kits; proper fire extinguishers; protective goggles, gloves and lab coats; proper disposal receptacles and procedures; spill control kit. Avoid carcinogens, mutagens and highly toxic chemicals like mercury, lead, cadmium, chlorine gas, etc.

 

Use only in laboratory hood.

Use least toxic solvents.

Do semi-micro- or microscale experiments.

 

Do not use explosives or chemicals such as ether, which can form explosive peroxides.

 

Avoid concentrated acids and bases when possible.

 

Do not use hydrogen sulphide. Use substitutes.

 

Avoid alphabetical storage, which can place incompatible chemicals in close proximity. Store chemicals by compatible groups.

 

Store flammable and combustible liquids in approved flammable-storage cabinets.

Biology

Dissection

 

 

Anaesthetizing insects

 

Drawing of blood

 

Microscopy

 

Culturing bacteria

Formaldehyde

 

 

Ether, cyanide

 

HIV, Hepatitis B

 

Stains

 

Pathogens

Do not dissect specimens preserved in formaldehyde. Use smaller, freeze-dried animals, training films and videotapes, etc.

 

Use ethyl alcohol for anaesthetization of insects. Refrigerate insects for counting.

 

Avoid if possible. Use sterile lancets for blood typing under close supervision.

 

Avoid skin contact with iodine and gentian violet.

 

Use sterile technique with all bacteria, assuming there could be contamination by pathogenic bacteria.

Physical sciences

Radioisotopes

 

 

Electricity and magnetism

 

Lasers

Ionizing radiation

 

 

Electrical hazards

 

 

Eye and skin damage,

electrical hazards

Use radioisotopes only in "exempt" quantities not requiring a license. Only trained teachers should use these. Develop a radiation safety programme.

 

Follow standard electrical safety procedures.

 

 

Use only low-power (Class I) lasers. Never look directly into a laser beam or pass the beam across face or body. Lasers should have a key lock.

Earth sciences

Geology

 

Water pollution

 

 

Atmosphere

 

 

Volcanoes

 

Solar observation

Flying chips

 

Infection, toxic chemicals

 

 

Mercury manometers

 

 

Ammonium dichromate

 

Infrared radiation

Crush rocks in canvas bag to prevent flying chips. Wear protective goggles.

 

Do not take sewage samples because of infection risk. Avoid hazardous chemicals in field testing of water pollution.

 

Use oil or water manometers. If mercury manometers are used for demonstration, have mercury spill control kit.

 

Do not use ammonium dichromate and magnesium to simulate volcanoes.

 

Never view sun directly with eyes or through lenses.

Art and Industrial Arts

All

 

 

Painting and drawing

 

 

Photography

 

 

Textile and fibre arts

General

 

 

Pigments, solvents

 

 

Photochemicals, acids,

sulphur dioxide

 

Dyes, dyeing assistants,

wax fumes

Avoid most dangerous chemicals and processes. Have proper ventilation. See also precautions under Chemistry

 

Avoid lead and cadmium pigments. Avoid oil paints unless cleanup is done with vegetable oil. Use spray fixatives outside.

 

Avoid colour processing and toning. Have dilution ventilation for darkroom. Have eyewash fountain. Use water instead of acetic acid for stop bath.

 

Use aqueous liquid dyes or mix dyes in glove box. Avoid dichromate mordants.

Do not use solvents to remove wax in batik. Have ventilation if ironing out wax.

 

Papermaking

 

 

 

Printmaking

 

 

 

 

 

 

 

 

 

 

Woodworking

 

 

 

 

 

 

 

 

 

 

 

 

 

Ceramics

 

 

 

Sculpture

 

 

 

 

Jewelry

 

Alkali, beaters

 

 

 

Solvents

 

 

 

Acids, potassium chlorate

 

 

 

Dichromates

 

 

Woods and wood dust

 

 

 

Machinery and tools

 

Noise

 

Glues

 

 

Paints and finishes

 

 

Lead, silica, toxic metals, kiln fumes

 

 

Silica, plastics resins, dust

 

 

 

 

Soldering fumes, acids

Do not boil lye. Use rotten or mulched plant materials, or recycle paper and cardboard. Use large blender instead of more dangerous industrial beaters to prepare paper pulp.

Use water-based instead of solvent-based silk screen inks. Clean intaglio press beds nd inking slabs with vegetable oil and dishwashing liquid instead of solvents.

Use cut paper stencils instead of lacquer stencils for silk screen printing.

 

Use ferric chloride to etch copper plates instead of Dutch mordant or nitric acid on zinc plates. If using nitric acid etching, have emergency shower and eyewash fountain and local exhaust ventilation.

 

Use diazo instead of dichromate photoemulsions. Use citric acid fountain solutions in lithography to replace dichromates.

 

Have dust collection system for woodworking machines. Avoid irritating and allergenic hardwoods, preserved woods (e.g., chromated copper arsenate treated).Clean up wood dust to remove fire hazards.

 

Have machine guards. Have key locks and panic button.

 

Reduce noise levels or wear hearing protectors.

 

Use water-based glues when possible. Avoid formaldehyde/resorcinol glues, solvent-based glues.

 

Use water-based paints and finishes. Use shellac based on ethyl alcohol rather than methyl alcohol.

 

Purchase wet clay. Do not use lead glazes. Buy prepared glazes rather than mixing dry glazes. Spray glazes only in spray booth. Fire kiln outside or have local exhaust ventilation. Wear infrared goggles when looking into hot kiln.

 

Use only hand tools for stone sculpture to reduce dust levels. Do not use sandstone, granite or soapstone, which might contain silica or asbestos. Do not use highly toxic polyester, epoxy or polyurethane resins. Have ventilation if heating plastics to remove decomposition products. Wet mop or vacuum dusts.

Avoid cadmium silver solders and fluoride fluxes. Use sodium hydrogen sulphate rather than sulphuric acid for pickling. Have local exhaust ventilation.

 

Enameling

 

 

Lost wax casting

 

 

 

Stained glass

 

 

Welding

 

 

 

Commercial art

Lead, burns, infrared

radiation

 

Metal fumes, silica,

infrared radiation, heat

 

 

Lead, acid fluxes

 

 

Metal fumes, ozone, nitrogen

dioxide, electrical and fire

hazards

 

Solvents, photochemicals,

video display terminals

Use only lead-free enamels. Ventilate enameling kiln. Have heat-protective gloves and clothing, and infrared goggles.

 

Use 50/50 30-mesh sand/plaster instead of cristobalite investments. Have local exhaust ventilation for wax burnout kiln and casting operation. Wear heat-protective clothing and gloves.

 

Use copper foil technique rather than lead came. Use lead- and antimony-free solders. Avoid lead glass paints. Use acid- and rosin-free soldering fluxes.

 

Do not weld metals coated with zinc, lead paints, or alloys with hazardous metals (nickel, chromium, etc.). Weld only metals of known composition.

 

 

Use double-sided tape instead of rubber cement. Use heptane-based, not hexane rubber cements. Have spray booths for air brushing. Use water-based or alcohol-based permanent markers instead of xylene types.

See Photography section for photoprocesses.

Have proper ergonomic chairs, lighting, etc., for computers.

Performing Arts

Theatre

 

 

 

 

Dance

 

 

 

Music

Solvents, paints, welding

fumes, isocyanates, safety,

fire

 

 

Acute injuries

Repetitive strain injuries

 

 

Musculoskeletal injuries

(e.g., carpal tunnel syndrome)

 

Noise

 

 

 

Vocal strain

Use water-based paints and dyes. Do not use polyurethane spray foams.

Separate welding from other areas. Have safe rigging procedures. Avoid pyrotechnics, firearms, fog and smoke, and other hazardous special effects.

Fireproof all stage scenery. Mark all trap doors, pits and elevations.

 

Have a proper dance floor. Avoid full schedules after period of inactivity. Assure proper warm-up before and cool-down after dance activity. Allow sufficient recovery time after injuries.

 

Use proper sized instruments. Have adequate instrument supports. Allow sufficient recovery time after injuries.

 

Keep sound levels at acceptable levels. Wear musician's ear plugs if needed.

Position speakers to minimize noise levels. Use sound-absorbing materials on walls.

Assure adequate warm-up. Provide proper vocal training and conditioning.

Automotive Mechanics

Brake drums

 

Degreasing

 

Car motors

 

Welding

 

Painting

Asbestos

 

Solvents

 

Carbon monoxide

 

 

 

Solvents, pigments

Do not clean brake drums unless approved equipment is used.

 

Use water-based detergents. Use parts cleaner

 

Have tailpipe exhaust.

 

See above.

 

Spray paint only in spray booth, or outdoors with respiratory protection.

 

Home Economics

Food and nutrition

Electrical hazards

 

Knives and other sharp utensils

 

Fire and burns

 

 

Cleaning products

Follow standard electrical safety rules.

 

Always cut away from body. Keep knives sharpened.

 

 

Have stove hoods with grease filters that exhaust to outside. Wear protective gloves with hot objects.

 

Wear goggles, gloves and apron with acidic or basic cleaning products.
Teachers in special education programmes can sometimes be at greater risk. Examples of hazards include violence from emotionally disturbed students and transmission of infections such as hepatitis A, B and C from institutionalized, developmentally disabled students (Clemens et al. 1992).
---
Preschool Programmes
Child-care, which involves the physical care and often education of young children, takes many forms in different parts of the world. In many countries where extended families are common, grandparents and other female relatives care for young children when the mother has to work. In countries where the nuclear family and/or single parents predominate and the mother is working, the care of healthy children below school age often occurs in private or public day-care centres or nursery schools outside the home. In many countries - for example, Sweden - these child-care facilities are operated by municipalities. In the United States, most child-care facilities are private, although they are usually regulated by local health departments. An exception is the Head Start Program for preschool children, which is funded by the government.
Staffing of child-care facilities usually depends on the number of children involved and the nature of the facility. For small numbers of children (usually less than 12), the child-care facility might be a home where the children include the preschool children of the caregiver. The staff can include one or more qualified adult assistants to meet staff-to-child ratio requirements. Larger, more formal child-care facilities include day-care centres and nursery schools. The staff members for these are usually required to have more education and can include a qualified director, trained teachers, nursing staff under the supervision of a physician, kitchen staff (nutrition specialists, food service managers and cooks) and other personnel, such as transportation staff and maintenance staff. The premises of the day-care centre should have such amenities as an outdoor play area, cloakroom, reception area, indoor classroom and play area, kitchen, sanitary facilities, administrative rooms, laundry room and so on.
Staff duties include supervision of children in all their activities, changing diapers of infants, emotional nurturing of the children, teaching, food preparation and service, recognition of signs of illness and/or safety hazards and many other functions.
Day-care workers face many of the same hazards found in normal indoor environments, including indoor air pollution, poor lighting, inadequate temperature control, slips and falls and fire hazards. (See the article "Elementary and Secondary Schools".) Stress (often resulting in burnout) and infections, however, are the major hazards for day-care workers. The lifting and carrying of children and exposure to possibly hazardous art supplies are other hazards.
Stress
Causes of stress in day-care workers include: high responsibility for the welfare of children without adequate pay and recognition; a perception of being unskilled even though many day-care workers have above-average education; image problems due to highly publicized incidents of day-care workers mistreating and abusing children, which have resulted in innocent day-care workers being fingerprinted and treated as potential criminals; and poor working conditions. The latter include low staff-to-child ratios, continual noise, lack of adequate time and facilities for meals and breaks separate from the children and inadequate mechanisms for parent-worker interaction, which can result in unnecessary and possibly unfair pressure and criticism from parents.
Preventive measures to reduce stress in day-care workers include: higher wages and better benefits; higher staff-to-child ratios to allow job rotation, rest breaks, sick leave and better performance, with resulting increase in job satisfaction; establishing formal mechanisms for parent-worker communications and cooperation (possibly including a parent-workers health and safety committee); and improved working conditions, such as adult-size chairs, regular "quiet" times, a separate workers' break area and so on.
Infections
Infectious diseases, such as diarrhoeal diseases, streptococcal and meningococcal infections, rubella, cytomegalovirus and respiratory infections, are major occupational hazards of day-care workers (see table 1). A study of day-care workers in Belgium found an increased risk of hepatitis A (Abdo and Chriske 1990). Up to 30% of the 25,000 cases of hepatitis A reported annually in the United States have been linked to day-care centres. Some organisms causing diarrhoeal diseases, such as Giardia lamblia, which causes giardiasis, are extremely infectious. Outbreaks can occur in day-care centres serving affluent populations as well as those serving poor areas (Polis et al. 1986). Some infections - for example, German measles and cytomegalovirus - can be especially hazardous for pregnant women, or women planning to have children, because of the risk of birth defects caused by the virus.
Sick children can spread diseases, as can children who have no overt symptoms but are carrying an illness. The most common routes of exposure are faecal-oral and respiratory. Young children usually have poor personal hygiene habits. Hand-to-mouth and toy-to-mouth contact are common. Handling contaminated toys and food is one type of entry route. Some organisms can live on inanimate objects for extended periods ranging from hours to weeks. Food can also be a vector if the food handler has contaminated hands or is ill. Inhalation of airborne respiratory droplets due to sneezing and coughing without protection such as tissues can result in transmission of infections. Such air-borne aerosols can remain suspended in the air for hours.
Day care employees working with children under the age of three years, especially if the children are not toilet-trained, are at greatest risk, particularly when changing and handling soiled diapers which are contaminated by disease-bearing organisms.
Precautions include: convenient facilities for handwashing; regular handwashing by children and staff members; changing diapers in designated areas which are regularly disinfected; disposal of soiled diapers in closed, plastic-lined receptacles which are emptied frequently; separating food preparation areas from other areas; frequent washing of toys, play areas, blankets and other items that could become contaminated; good ventilation; adequate staff-to-child ratios to allow proper implementation of a hygiene programme; a policy of excluding, isolating or restricting sick children, depending on the illness; and adequate sick-leave policies to allow sick day-care workers to stay home.
Adapted from Women's Occupational Health Resource Center 1987
---