Zoological gardens, wildlife parks, safari parks, bird parks and collections of aquatic wildlife share similar methods for the maintenance and handling of exotic species. Animals are held for exhibition, as an educational resource, for conservation and for scientific study. Traditional methods of caging animals and preparing aviaries for birds and tanks for water creatures remain common, but more modern, progressive collections have adopted different enclosures designed to meet more of the needs of particular species. The quality of space accorded to an animal is more important than the quantity, however, which has consequential beneficial effects on keeper safety. The danger to keepers is often related to the size and natural ferocity of the species attended, but many other factors can affect the danger.
The main animal groupings are mammals, birds, reptiles, amphibians, fish and invertebrates. Problem areas that are common to all the animal groups are toxins, diseases that are contractible from animals (zoonoses) and changing animal moods.
Mammals
Mammals' varied forms and habits require a wide range of husbandry techniques. The largest land forms are herbivorous, such as elephants, and are limited in their ability to climb, jump, burrow or gnaw, so their control is similar to domestic forms. Remote control of gates can offer high degrees of safety. Large predators such as big cats and bears require enclosures with wide margins of safety, double entry doors and in-built catch-ups and crushes. Agile climbing and jumping species pose special problems to keepers, who lack comparable mobility. The use of electric shock fence wiring is now widespread. Capture and handling methods include corralling, nets, crushing, roping, sedation and immobilization with drugs injected by dart.
Birds
Few birds are too large to be restrained by gloved hands and nets. The largest flightless birds—ostriches and cassowaries—are strong and have a very dangerous kick; they require crating for restraint.
Reptiles
Large carnivorous reptile species have violent strike attack capability; many snakes do too. Captive specimens may seem docile and induce keeper complacency. An attacking large constricting snake can overwhelm and suffocate a panicking keeper of much greater weight. A few venomous snakes can "spit"; thus eye protection against them should be mandatory. Restraint and handling methods include nets, bags, hooks, grabs, nooses and drugs.
Amphibians
Only a large giant salamander or big toad can give an unpleasant bite; otherwise risks from amphibians are from toxin excretion.
Fish
Few fish specimens are hazardous except for venomous species, electric eels and bigger predatory forms. Careful netting minimizes risk. Electric and chemical stunning may be occasionally appropriate.
Invertebrates
Some lethal invertebrate species are kept which require indirect handling. Mis-identification and specimens hidden by camouflage and small size can endanger the unwary.
Toxins
Many animal species have evolved complex poisons for feeding or defence, and deliver them by biting, stinging, spitting and secretion. Delivered quantities may vary from the inconsequential to lethal doses. Worst case scenarios should be the model for accident anticipation procedures. Single keeper exposure to lethal species should not be practised. Husbandry must include risk evaluation, unambiguous warning signs, restriction of handling to those trained, maintenance of stocks of antidotes (if any) in close liaison with local trained medical practitioners, predetermination of handler reaction to antidotes and an efficient alarm system.
Zoonoses
A good animal health programme and personal hygiene will keep the risk from zoonoses very low. However, there are many which are potentially lethal, such as rabies, which is untreatable in later stages. Almost all are avoidable, and treatable if diagnosed correctly early enough. As with work elsewhere, the incidence of allergy-related illness is rising and it is best treated by non-exposure to the irritant when identified.
"Non-venomous" bites and scratches require careful attention, as even a bite which appears not to break skin can lead to rapid blood poisoning (septicaemia). Carnivore and monkey bites should be especially suspect. An extreme example is the bite of a komodo dragon; the microflora in its saliva are so virulent that bitten large prey that escapes an initial attack will rapidly die from shock and septicaemia.
Routine prophylaxis against tetanus and hepatitis may be appropriate for many staff.
Moods
Animals can give an infinite variety of responses, some very dangerous, to close human presence. Observable mood changes can alert keepers to danger, but few animals show signs readable by humans. Moods can be influenced by a combination of seen and unseen stimuli such as season, day length, time of day, sexual rhythms, upbringing, hierarchy, barometric pressure and high-frequency noise from electrical equipment. Animals are not production line machines; they may have predictable patterns of behaviour but all have the capacity to do the unexpected, against which even the most skilled attendant must guard.
Personal safety
Risk appreciation should be taught by the skilled to the inexperienced. An undiminishing high level of caution will enhance personal safety, particularly, for example, when food is offered to larger carnivores. Animal responses will vary to different keepers, especially to those of different sex. An animal submissive to one person may attack another. The understanding and use of body language can enhance safety; animals naturally understand it better than humans. Voice tone and volume can calm or cause chaos (figure 1).
Figure 1. Handling animals with voice and body language.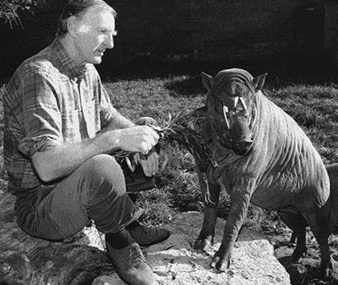 Ken Sims
Clothing should be chosen with special care, avoiding bright, flapping material. Gloves may protect and reduce handling stress but are inappropriate for handling snakes because tactile sensitivity is reduced.
If keepers and other staff are expected to manage trespassing, violent or other problem visitors, they should be schooled in people management and have back-up on call to minimize risks to themselves.
Regulations
Despite the variety of potential risks from exotic species, the greater workplace hazards are conventional ones arising from plant and machinery, chemicals, surfaces, electricity and so on, so standard health and safety regulations must be applied with common sense and regard for the unusual nature of the work.