This article has been prepared by Dr F. Käferstein, Chief, Food Safety, World Health Organization. It is entirely based on the report of a WHO Panel on Food and Agriculture which had supported the WHO Commission on Health and Environment to prepare a report for the United Nations Conference on Environment and Development (UNCED), Rio de Janeiro, 1992. Both reports are available from the WHO.
Production Needs in the Face of Population Pressure and Other Forces
Rapid population growth continues in some regions of the world. As compared with the situation in 1990, by the year 2010 there will be an extra 1,900 million people to be fed, a rise of 36% from 5,300 to 7,200 million people.
Ninety per cent of the entire projected growth over the next 20 years is expected to take place in the countries which are currently classified as developing nations. Progressive urbanization of society is taking place. The urban population of the world will reach 3,600 million, a rise of 62% from the 2,200 million city dwellers in 1990. Moreover the urban population of developing countries will increase by 92% (from 1,400 million to 2,600 million) in the twenty years from 1990, a fourfold increase since 1970. Even if family planning receives the urgent attention that it desperately requires from all rapidly growing populations, population growth and urbanization will continue to dominate the scene for the next two decades.
A 36% increase in food, other agricultural products and potable water will be required over the next twenty years simply to match the rise in population; the need for half a billion people to be properly fed instead of remaining undernourished, and the greater demand from populations with a rising income, will all lead to a vast increase in total food production. An excessive demand for food of animal origin will continue to characterize people in the higher income groups, leading to increases in animal feed production.
The pressure on agriculture and food production, as both population and per capita demand increase, will lead to a greater burden on the environment. This burden will be unevenly generated and have uneven environmental effects. Globally, these will be adverse and will require concerted action.
This increased demand will fall on resources of land and water which are finite, where the most productive areas have already been used, and where the cost of bringing marginal land into production, and of using less readily available water, will be high. Much of this marginal land may have only temporary fertility unless specific measures are taken to maintain it, while the productivity of natural fisheries is also sharply limited. The area of arable land will decrease due to soil erosion from over-grazing; laterization of clearfelled areas; soil salinization and other types of land degradation; and the expansion of urban, industrial and other developments.
Water availability and quality, already totally inadequate in much of the world, will remain major problems for rural areas of developing countries and also for many urban populations, who may face the additional problem of high utilization charges. Needs for water will increase greatly, and for several large cities the meeting of water demands will become increasingly costly as supplies will have to be brought from far away. Re-use of water implies more stringent standards for treatment. The increasing production of wastewater and sewage will require more extensive treatment facilities, as well as large outlays of capital.
The continuing long-term need for industrial development to produce goods, services and employment will lead to more intensive food production, which will itself become more industrialized. Consequently, and especially because of urbanization, the demand for, and the resources employed in, packaging, processing, storage and distribution of food will increase in volume and importance.
The public is becoming much more aware of the need to produce, protect and market food in ways which minimize adverse change in our environment, and is more demanding in this respect. The emergence of revolutionary scientific tools (e.g., biotechnological advances) offers the possibility of significantly increasing food production, reducing waste and enhancing safety.
The principal challenge is to meet the increasing demands for food, other agricultural products and water in ways that foster long-term improvements in health, and which are also sustainable, economical and competitive.
Despite the fact that globally there is at present sufficient food for all, great difficulties have to be overcome to ensure the availability and equitable distribution of safe, nutritious and affordable food supplies to meet health needs in many parts of the world, and notably in areas of rapid population growth.
There is often a failure to take the possible health consequences fully into account in the design and implementation of agricultural and fisheries policies and programmes. An example is the production of tobacco, which has very serious and negative impacts on human health and on scarce land and fuelwood resources. Moreover, the lack of an integrated approach to development of the agriculture and forestry sectors results in failure to recognize the important relationship of both sectors to the protection of wildlife habitats, biological diversity and genetic resources.
If timely and appropriate action is not taken to mitigate the environmental impacts of agriculture, fisheries, food production and water use, then the following situations will prevail:
As the urban population increases, the difficulty of maintaining and extending an efficient food distribution system will become greater. This may increase the prevalence of household food insecurity, associated malnutrition and health risks among the growing masses of urban poor.
Microbial, viral and parasitic diseases from contaminated food and water will continue to be serious health problems. New agents of public health importance will continue to emerge. The diarrhoeal diseases related to food and water, causing high infant mortality and universal morbidity, will increase.
Vector-borne diseases from irrigation, other water resource developments, and uncontrolled wastewater will increase substantially. Malaria, schistosomiasis, filariasis and arbovirus fevers will continue to be major problems.
The problems outlined above will be reflected in static or rising levels of infant and young child malnutrition and mortality, as well as morbidity at all ages, but predominantly among the poor, the very young, the aged and the sick.
diseases linked to inappropriate life-styles, smoking and diet (for example, obesity, diabetes or coronary heart disease), which are characteristic of the more affluent countries, are now emerging and becoming significant problems also in developing countries. The increasing urbanization will accelerate this trend.
As the intensity of food production increases, the risk of occupational diseases and accidents among those working in this and related sectors will increase substantially unless sufficient efforts for safety and prevention are made.
Health Consequences of Biological Contamination and Chemicals in Food
Despite progress in science and technology, contaminated food and water remain to this day major public health problems. Foodborne diseases are perhaps the most widespread health problems in the contemporary world and important causes of reduced economic productivity (WHO/FAO 1984). They are caused by a wide range of agents, and cover all degrees of severity, from mild indispositions to life-threatening illnesses. However, only a small proportion of cases comes to the notice of health services and even fewer are investigated. As a result, it is believed that in industrialized countries only approximately 10% of the cases are reported, whilst in developing countries reported cases probably account for not more than 1% of the total.
Despite these limitations, the data that are available indicate that foodborne diseases are increasing all over the world, both in developing and industrialized countries. Experience in Venezuela illustrates this trend (PAHO/WHO 1989) (figure 1).
Figure 1. Foodborne diseases in Venezuela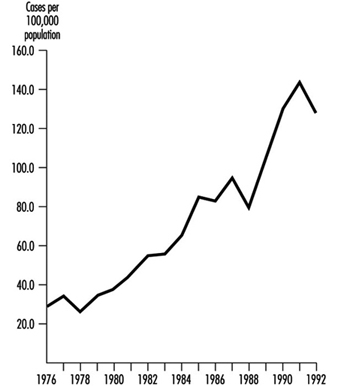 Developing countries
Available information clearly indicates that biological contaminants (bacteria, viruses and parasites) are the major causes of foodborne diseases (table 1).
Table 1. Some agents of important foodborne diseases and salient epidemiological features
Agents

Important reservoir/carrier

Transmissiona by

Multiplication
in food

Examples of some incriminated foods

Water

Food

Person to person

Bacteria

Baccillus cereus

Soil

-

+

-

+

Cooked rice, cooked meats, vegetables,
starchy puddings

Brucella species

Cattle, goats, sheep

-

+

-

+

Raw milk, dairy products

Campylobacter jejuni

Chickens, dogs, cats, cattle,
pigs, wild birds

+

+

+

-b

Raw milk, poultry

Clostridium botulinum

Soil, mammals, birds, fish

-

+

-

+

Fish, meat, vegetables (home preserved),
honey

Clostridium perfringens

Soil, animals, humans

-

+

-

+

Cooked meat and poultry, gravy, beans

Escherichia coli

Enterotoxigenic

Humans

+

+

+

+

Salad, raw vegetables

Enteropathogenic

Humans

+

+

+

+

Milk

Enteroinvasive

Humans

+

+

0

+

Cheese

Enterohaemorrhagic

Cattle, poultry, sheep

+

+

+

+

Undercooked meat, raw milk, cheese

Listeria monocytogenes

Environment

+

+

-c

+

Cheese, raw milk, coleslaw

Mycobacterium bovis

Cattle

-

+

-

-

Raw milk

Salmonella typhi and
paratyphi

Humans

+

+

±

+

Dairy products, meat products, shellfish,
vegetable salads

Salmonella (non-typhi)

Humans and animals

±

+

±

+

Meat, poultry, eggs, dairy products,
chocolate

Shigella spp.

Humans

+

+

+

+

Potato/egg salads

Staphylococcus aureus
(enterotoxins)

-

+

-

+

Ham, poultry and egg salads, cream-filled
bakery products, ice cream, cheese

Vibrio cholerae, 01

Humans, marine life

+

+

±

+

Salad, shellfish

Vibrio cholerae, non-01

Humans, marine life

+

+

±

+

Shellfish

Vibrio parahaemolyticus

Sea water, marine life

-

+

-

+

Raw fish, crabs, and other shellfish

Vibrio vulnificus

Sea water, marine life

+

+

-

+

Shellfish

Yersinia enterocolitica

Water, wild animals, pigs,
dogs, poultry

+

+

-

+

Milk, pork, and poultry

Viruses

Hepatitis A virus

Humans

+

+

+

-

Shellfish, raw fruit and vegetables

Norwalk agents

Humans

+

+

-

-

Shellfish, salad

Rotavirus

Humans

+

+

+

-

0

Protozoa

+

+

+

+

Cryptosporidium parvum

Humans, animals

+

+

+

-

Raw milk, raw sausage (non-fermented)

Entamoeba histolytica

Humans

+

+

+

-

Vegetables and fruits

Giardia lamblia

Humans, animals

+

±

+

-

Vegetables and fruits

Toxoplasma gondii

Cats, pigs

0

+

-

-

Undercooked meat, raw vegetables

Helminths

Ascaris lumbricoides

Humans

+

+

-

-

Soil-contaminated food

Clonorchis sinensis

Freshwater fish

-

+

-

-

Undercooked/raw fish

Fasciola hepatica

Cattle, goats

+

+

-

-

Watercress

Opisthorclis viverrini/felinus

Freshwater fish

-

+

-

-

Undercooked/raw fish

Paragonimus sp.

Freshwater crabs

-

+

-

-

Undercooked/raw crabs

Taenia saginata and T. solium

Cattle, swine

-

+

-

-

Undercooked meat

Trichinella spiralis

Swine, carnivora

-

+

-

-

Undercooked meat

Trichuris trichiura

Humans

0

+

-

-

Soil-contaminated food
a Almost all acute enteric infections show increased transmission during the summer and/or wet months, except infections due to Rotavirus and Yersinia enterocolitica, which show increased transmission in cooler months.
b Under certain circumstances, some multiplication has been observed. The epidemiological significance of this observation is not clear.
c Vertical transmission from pregnant woman to foetus occurs frequently.
+ = Yes; ± = Rare; - = No; 0 = No information.
Adapted from WHO/FAO 1984.
In the developing countries, they are responsible for a wide range of foodborne diseases (e.g., cholera, salmonellosis, shigellosis, typhoid and paratyphoid fevers, brucellosis, poliomyelitis and amoebiasis). Diarrhoeal diseases, especially infant diarrhoea, are the dominant problem and indeed one of massive proportions. Annually, some 1,500 million children under the age of five suffer from diarrhoea and of these over three million die as a result. Formerly it was thought that contaminated water supplies were the main direct source of pathogens causing diarrhoea, but now it has been shown that up to 70% of diarrhoeal episodes may be due to foodborne pathogens (WHO 1990c). However, the contamination of the food may in many cases originate from contaminated water that is used for irrigation and similar purposes.
Industrialized countries
Although the situation regarding foodborne diseases is very serious in developing countries, the problem is not limited to these countries, and in recent years, industrialized countries have experienced a succession of major epidemics. In the United States it is estimated there are 6.5 million cases per year, with 9,000 fatalities, but according to the US Food and Drug Administration this figure is an underestimate and may be as high as 80 million cases (Cohen 1987; Archer and Kvenberg 1985; Young 1987). The estimate for former West Germany was one million cases in 1989 (Grossklaus 1990). A study in the Netherlands found that as many as 10% of the population may be affected by foodborne or waterborne diseases (Hoogenboom-Vergedaal et al. 1990).
With today's improvements in standards of personal hygiene, development of basic sanitation, safe water supplies, effective infrastructure and the increasing application of technologies such as pasteurization, many foodborne diseases have been either eliminated or considerably reduced in certain industrialized countries (e.g., milkborne salmonellosis). Nevertheless, most countries are now experiencing an important increase in several other foodborne diseases. The situation in former West Germany (1946-1991) illustrates this phenomenon (figure 2) (Statistisches Bundesamt 1994).
Figure 2. Infectious enteritis, typhoid fever and para-typhoid fever (A, B and C), Germany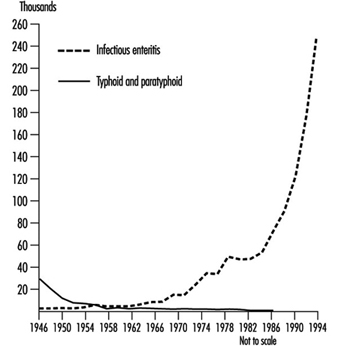 Salmonellosis, specifically, has increased tremendously on both sides of the Atlantic over the past few years (Rodrigue 1990). In many cases it is due to Salmonella enteritidis. Figure 3 shows the increase of this micro-organism in relation to other Salmonella strains in Switzerland. In many countries, poultry meat, eggs and foods containing eggs have been identified as the predominant sources of this pathogen. In certain countries, 60 to 100% of poultry meat is contaminated with Salmonella spp., and meat, frogs' legs, chocolate and milk have also been implicated (Notermans 1984; Roberts 1990). In 1985, some 170,000 to 200,000 persons were involved in an outbreak of salmonellosis in Chicago which was caused by contaminated pasteurized milk (Ryzan 1987).
Figure 3. Serotypes of Salmonella in Switzerland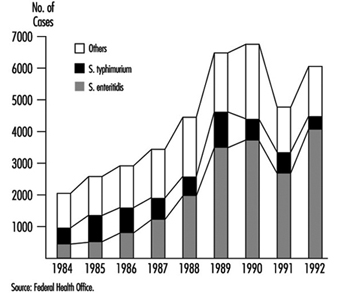 Chemicals and toxicants in food
Considerable efforts have been undertaken at the national and international levels to ensure the chemical safety of food supplies. Two joint FAO/WHO committees have, over a period of three decades, evaluated a large number of food chemicals. The Joint FAO/WHO Expert Committee on Food Additives (JECFA) evaluates food additives, contaminants and veterinary drug residues, and the Joint FAO/WHO Meeting on Pesticide Residues (JMPR) evaluates pesticide residues. Recommendations are made on the acceptable daily intake (ADI), on maximum residue levels (MRLs) and maximum levels (MLs). Based on these recommendations, the Codex Alimentarius Commission and governments establish food standards and safe levels for these substances in foodstuffs. Moreover, the Joint UNEP/FAO/WHO Food Contamination Monitoring Programme (GEMS/Food) provides information on the levels of contaminants in food and on time trends of contamination, enabling preventive and control measures.
While information from most of the developing countries is scarce, surveys made in the industrialized countries suggest that the food supply is largely safe from the chemical viewpoint owing to the extensive food safety infrastructure (i.e., legislation, enforcement mechanisms, surveillance and monitoring systems) and the general level of responsibility of the food industry. However, accidental contamination or adulteration does occur, in which case the health consequences may be grave. For example, in Spain in 1981-82, adulterated cooking oil killed some 600 people and disabled—temporarily or permanently—another 20,000 (WHO 1984). The agent responsible for this mass poisoning has not yet been identified in spite of intensive investigations.
Environmental chemicals
A number of chemical substances may occur in the food supply as a result of environmental contamination. Their effects on health may be extremely serious and have caused great concern in recent years.
Serious consequences have been reported when foods contaminated with heavy metals such as lead, cadmium or mercury have been ingested over extended periods of time.
The Chernobyl accident provoked great concern over the health risks to people exposed to accidental radionuclide emissions. People living in the vicinity of the accident were exposed, and this exposure included radioactive contaminants in food and water. In other parts of Europe and elsewhere, at some distance from the accident, this concern focused on contaminated foods as a source of exposure. In most countries, the estimated average dose acquired from eating contaminated foods amounted to only a very small fraction of the dose normally received from background radiation (IAEA 1991).
Other environmental chemicals of interest are polychlorinated biphenyls (PCBs). PCBs are used in various industrial applications. Information on the effects of PCBs on human health were originally noted following from two large-scale incidents which occurred in Japan (1968) and in Taiwan, China (1979). Experience from these outbreaks showed that as well as their acute effects, PCBs may also have carcinogenic effects.
DDT was widely used between 1940 and 1960 as an insecticide for agricultural purposes and for the control of vector-borne diseases. It is now banned or restricted in many countries because of its potential risk to the environment. In many tropical countries, DDT is still an important chemical, used for the control of malaria. No confirmed ill effects have been reported due to residues of DDT in food (UNEP 1988).
Mycotoxins
Mycotoxins, the toxic metabolites of certain microscopic fungi (moulds), may cause serious adverse effects in humans, as well as in animals. Animal studies have shown that besides acute intoxication, mycotoxins are capable of causing carcinogenic, mutagenic and teratogenic effects.
Biotoxins
Intoxication by marine biotoxin (also known as "fish poisoning") is another problem of concern. Examples of such intoxications are ciguatera and various kinds of shellfish poisoning.
Plant toxicants
Toxicants in edible plants and poisonous plants which resemble them (mushrooms, certain wild green plants) are important causes of ill health in many areas of the world and present a troublesome problem for food safety (WHO 1990b).