Timber transport provides the link between the forest harvesting and the mill. This operation is of great economic importance: in the northern hemisphere it accounts for 40 to 60% of the total wood procurement cost at the mill (excluding stumpage), and in the tropics the proportion is even higher. The basic factors affecting timber transport include: the size of the operation; the geographic locations of the forest and the mill as well as the distance between them; the assortment of timber for which the mill is designed; and the kinds of transportation that are available and suitable. The main timber assortments are full trees with branches, delimbed tree lengths, long logs (typically 10 to 16m in length), shortwood (typically 2 to 6m logs), chips and hog fuel. Many mills can accept varied assortments of timber; some can accept only specific types—for example, shortwood by road. Transport can be by road, rail, ship, floating down a waterway or, depending on the geography and the distance, various combinations of these. Road transport by truck, however, has become the primary form of timber transportation.
In many cases timber transport, especially road transport, is an integrated part of the harvesting operation. Thus, any problem in timber transport may stop the entire harvesting operation. The time pressure can lead to a demand for overtime work and a tendency to cut corners that may compromise the workers' safety.
Both forest harvesting and timber transport are often contracted out. Particularly when there are multiple contractors and subcontractors, there may be a question of who has the responsibility for protecting particular workers' safety and health.
Timber Handling and Loading
When circumstances permit, timber may be loaded directly onto trucks at the stump, eliminating the need for a separate forest transport phase. When distances are short, forest transport equipment (e.g., an agricultural tractor with a trailer or semi-trailer) may convey the timber directly to the mill. Normally, however, the timber is first taken to the forest roadside landing for long-distance transport.
Manual loading is often practised in developing countries and in poorly capitalized operations. Small logs can be lifted and the large ones rolled with the help of ramps (see figure 1). Simple hand tools like hooks, levers, sappies, pulleys and so on may be used, and draught animals may be involved.
Figure 1. Manual loading (with and without ramps).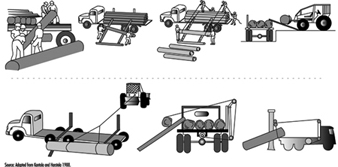 In most instances, however, loading is mechanized, usually with swing-boom, knuckle-boom or front-end loaders. Swing-boom and knuckle-boom loaders may be mounted on wheeled or tracked carriers or on trucks, and are usually equipped with grapples. Front-end loaders usually have forks or grapples and are mounted on crawler tractors or articulated four-wheel-drive tractors. In semi-mechanized loading, logs may be lifted or rolled up the loading skids by cables and different kinds of tractors and winches (see figure 2) . Semi-mechanized loading often requires workers to be on the ground attaching and releasing cables, guiding the load and so on, often using hooks, levers and other hand tools. In chipping operations, the chipper usually blows the chips directly into the truck, trailer or semi-trailer.
Figure 2. Mechanized and semi-mechanized loading.

Landing Operations
Landings are busy, noisy places where many different operations are conducted simultaneously. Depending on the harvesting system, these include loading and unloading, delimbing, debarking, bucking, sorting, storing and chipping. One or more large machines may be moving and operating at the same time while chain saws are in use close by. During and after rain, snow and frost, the logs may be very slippery and the ground may be very muddy and slick. The area may be littered with debris, and in dry weather it may be very dusty. Logs may be stored in unsecured piles several metres high. All this makes the landing one of the most dangerous working areas in the forestry industry.
Road Transport
Road transport of timber is carried by vehicles the size of which depends on the dimensions of the timber, road conditions and traffic regulations, and the availability of capital to purchase or lease the equipment. Two- or three-axle trucks with a carrying capacity of 5 to 6 tonnes are commonly used in tropical countries. In Scandinavia, for example, the typical logging truck is a 4-axle truck with a 3-axle trailer or vice versa—with a carrying capacity of 20 to 22 tonnes. On private roads in North America, one can encounter rigs with a total weight of 100 to 130 tonnes or more.
Water Transport
The use of waterways for timber transport has been declining as road transport has been increasing, but it still remains important in Canada, the United States, Finland and Russia in the northern hemisphere, in the watersheds of the Amazon, Paraguay and Parana rivers in Latin America, in many rivers and lakes in Western Africa and in most countries in Southeast Asia.
In mangrove and tidal forests, water transport usually starts directly from the stump; otherwise the logs have to be transported to the waterfront, usually by truck. Loose logs or bundles can be drifted downstream in rivers. They can be bound into rafts which can be towed or pushed in rivers, lakes and along coasts, or they may be loaded onto boats and barges of varying size. Ocean-going ships play a large role in the international timber trade.
Rail Transport
In North America and in the tropics, railway transport, like water transport, is giving way to road transport. However, it remains very important in countries like Canada, Finland, Russia and China, where there are good railway networks with suitable intermediate landing areas. In some large-scale operations, temporary narrow-gauge railways may be used. The timber may be carried in standard freight cars, or specially constructed timber-carrying cars may be used. In some terminals, large fixed cranes may be used for loading and unloading, but, as a rule, the loading methods described above are used.
Conclusion
Loading and unloading, which sometimes must be done several times as timber travels from the forest to where it will be used, is often a particularly hazardous operation in the timber industry. Even when fully mechanized, workers on foot and using hand tools may be involved and may be at risk. Some larger operators and contractors recognize this, maintain their equipment properly and provide their workers with personal protective equipment (PPE) such as shoes, gloves, helmets, glasses and noise protectors. Even then, trained and diligent supervisors are required, to ensure that safety concerns are not overlooked. Safety often becomes problematic in smaller operations and particularly in developing countries. (For an example see figure 3 , which shows workers without PPE loading logs in Nigeria.)
Figure 3. Logging operations in Nigeria with unprotected workers.