Contemporary fibre or textile artists use a wide range of processes, such as weaving, needlework, papermaking, leatherworking and so forth. These can be done by hand or aided by machines (see table 1). They may also use many processes for preparing fibres or finished textile, such as carding, spinning, dyeing, finishing and bleaching (see table 2). Finally the fibreworks or textiles may be painted, silk-screened, treated with photographic chemicals, scorched or otherwise modified. See separate articles in this chapter describing these techniques.
Table 1. Description of fibre and textile crafts.
| | |
| --- | --- |
| Process | Description |
| Basketry | Basketry is the making of baskets, bags, mats, etc., by hand weaving, plaiting and coiling techniques using materials such as reeds, cane and sisal fibre. Knives and scissors are often used, and coiled baskets are often sewed together. |
| Batik | Batik involves the creating of dye patterns on fabric by applying molten wax to the fabric with a djanting to form a resist, dyeing the fabric and removing the wax with solvents or by ironing between newsprint. |
| Crocheting | Crocheting is similar to knitting except that a hook is used to loop threads into the fabric. |
| Embroidery | The embellishment of a fabric, leather, paper or other materials by sewing of designs worked in thread with a needle. Quilting comes under this category. |
| Knitting | Knitting is the craft of forming a fabric by interlocking of yarn in a series of connected loops using long hand or mechanized needles. |
| Lacemaking | Lacemaking involves the production of ornamental openwork of threads that have been twisted, looped and intertwined to form patterns. This can involve very fine and intricate hand stitching. |
| Leatherworking | Leather crafts involve two basic steps: cutting, carving, sewing and other physical processes; and cementing, dyeing and finishing the leather. The first can involve a variety of tools. The latter can involve the use of solvents, dyes, lacquers and such. For tanning, see the chapter Leather, fur and footwear. |
| Macrame | Macrame is the ornamental knotting of yarn into bags, wall hangings or similar materials. |
| Papermaking | Papermaking involves preparing the pulp and then making the paper. A variety of plants, wood, vegetables, used paper rags and so forth can be used. The fibres must be separated out, often by boiling in alkali. The fibres are washed and placed in a beater to complete preparation of the pulp. Then paper is made by trapping the pulp on a wire or fabric screen, and allowed to dry in the air or by being pressed between layers of felt. The paper can be treated with sizings, dyes, pigments and other materials. |
| Silk screen printing | See "Drawing, Painting and Printmaking". |
| Weaving | Weaving uses a machine called a loom to combine two sets of yarn, the warp and the weft, to produce fabric. The warp is wound on large reels, called beams, which run the length of the loom. The warp yarns are threaded through the loom to form vertical parallel threads. The weft is fed from the side of the loom by bobbins. The loom shuttle carries the weft yarns across the loom horizontally under and above alternate warp threads. A starch sizing is used to protect warp threads from breaking during weaving. There are many types of looms, both hand-operated and mechanical. |
Table 2. Description of fibre and textile processes.
| | |
| --- | --- |
| Process | Description |
| Carding | Process of cleaning and straightening fibres into parallel lines by combing it (by hand or by special machinery) and twisting the fibres into a rope-like form. This process can create large amounts of dust. |
| Spinning | A foot-pedal-operated spinning wheel is used to turn the spindle, which combines several fibres into twisted, elongated yarn. |
| Finishing | The woven fabric can be singed to remove projecting hairs, desized with enzymes, and scoured by boiling in alkali to remove fats and waxes. |
| Dyeing | Yarn or fabric can be dyed using a variety of types of dyes (natural, direct, acid, basic, disperse, fibre-reactive and more) depending upon the type of fabric. Many dyeing processes involve heating the dyebath to near boiling. Many dyeing assistants can be used, including acids, alkalis, salt, sodium hydrosulphite and, in the case of natural dyes, mordants such as urea, ammonium dichromate, ammonia, copper sulphate, and ferrous sulphate. Dyes are usually purchased in powder form. Some dyes may contain solvents. |
| Bleaching | Fabrics can be bleached with chlorine bleaches to remove colour. |
No material is off limits for artists, who may use any of thousands of animal, vegetable or synthetic materials in their work. They gather materials such as weeds, vines or animal hair from the outdoors, or purchase products from suppliers who may have altered them by treating them with oils, fragrances, dyes, paints or pesticides (e.g., rat poison in twine or rope intended for agricultural use). Imported animal or vegetable materials that have been processed to eliminate disease carrying insects, spores or fungi are also used. Old rags, bones, feathers, wood, plastics or glass are among many other materials incorporated in fibre crafts.
Potential Sources of Health Hazards in the Fibre Arts
Chemicals
Health hazards in fibre or textile arts, as in any workplace, include air pollutants such as dusts, gases, fumes and vapours that are inherent in the materials or are produced in the work process, and can be inhaled or affect the skin. In addition to chemical hazards of dyes, paints, acids, alkalis, mothproofing agents and so on, fibre or textile materials may be contaminated with biological materials that can cause disease.
Vegetable dusts
Workers heavily exposed to dusts of raw cotton, sisal, jute and other vegetable fibres in industrial workplaces have developed various chronic lung problems such as "brown lung" (byssinosis), which begins with chest tightness and shortness of breath, and can be disabling after many years. Exposure to vegetable dusts in general may cause lung irritation or other effects such as asthma, hay fever, bronchitis and emphysema. Other materials associated with vegetable fibres, such as moulds, mildew, sizing materials and dyes, may also cause allergic or other reactions.
Animal dusts
Animal products used by fibre artists such as wool, hair, hides and feathers may be contaminated with bacteria, moulds, lice or mites that are capable of causing "Q" fever, mange, respiratory symptoms, skin rashes, anthrax, allergies and so on, if they are not treated or fumigated before use. Fatal cases of inhalation anthrax have occurred in craft weavers, including the 1976 death of a California weaver.
Synthetic materials
The effects of dusts of polyesters, nylon, acrylic, rayon and acetates are not well known. Some plastic fibres may release gas or components or residues which are left in the fabric after processing, as in the case of formaldehyde released by polyesters or permanent-press fabrics. Sensitive individuals have reported allergic responses in rooms or stores where these materials were present, and some have developed skin rashes after wearing clothing of these fabrics, even after repeated washings.
Heating, scorching or otherwise altering synthetic materials chemically may release potentially hazardous gases or fumes.
Physical Effects of Working with Fibres and Textiles
The physical characteristics of materials may affect the user. Rough, thorny or abrasive materials can cut or abrade skin. Glass fibres or stiff grasses or rattan can penetrate the skin and cause infections or rashes.
Much of fibre or fabric work is done while the worker is seated for prolonged periods, and involves repetitious motion of arms, wrists, hands and fingers, and often the entire body. This may produce pain and eventual repetitive strain injuries. Weavers, for example, can develop back problems, carpal tunnel syndrome, skeletal deformation from weaving in a squatting position on older types of looms (particularly in young children), hand and finger disorders (e.g., swollen joints, arthritis, neuralgia) from threading and tying knots, and eyestrain from poor lighting (figure 1). Many of the same problems can occur in other fibre crafts involving sewing, tying knots, knitting and so forth. Needlework crafts can also involve hazards of needle pricks.
Figure 1. Weaving with a hand loom.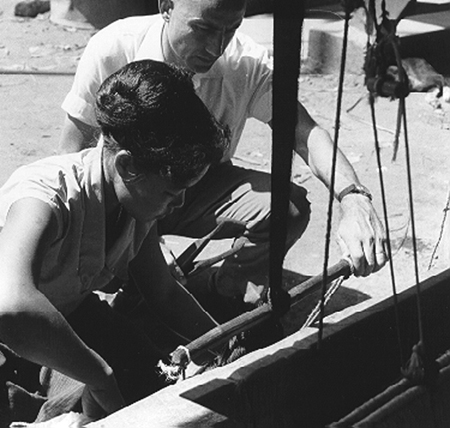 Lifting of large papermaking screens containing water-saturated pulp can cause possible back injuries due to the weight of the water and pulp.
Precautions
As with all work, the adverse effects depend upon the amount of time spent working on a project each day, the number of workdays, weeks or years, the quantity of work and the nature of the workplace, and the type of work itself. Other factors such as ventilation and lighting also affect the health of the artist or craftsperson. One or two hours a week spent at a loom in a dusty environment may not affect a person seriously, unless that person is highly allergic to dusts, but a prolonged period of work in the same environment over months or years may result in some health effects. However, even one episode of untrained lifting of a heavy object can cause injury to the spine.
Generally, for prolonged or regular work in fibre art or textiles:
Obtain and use only treated or fumigated animal or vegetable materials. Other materials should be cleaned or washed, and stored in closed containers to minimize dusts.
Damp mop or wipe work area surfaces frequently.
In many countries, manufacturers are required to provide information that describes the hazardous aspects of chemicals such as dyes, adhesives, paints or solvents in any product purchased, such as a manufacturer's Material Safety Data Sheet (MSDS). Request such information.
Avoid eating, drinking or smoking in the work area.
Take frequent rest and exercise periods when work involves repetitive motion.
Modify work processes to reduce the need for excessive lifting or straining. For example, in papermaking use smaller screens or have another person assist in lifting the screen with the pulp.
Use exhaust ventilation for regular or prolonged use of dusty materials, spray painting, heating of wax or work with solvent-containing materials such as oil-based paints or permanent ink markers.
Avoid boiling acids and alkalis if possible. Wear gloves, goggles, face shield and protective apron.
Remember that dusts, gases and vapours travel throughout buildings and may affect others present, particularly infants, children, the aged and the chronically ill.
Consult an industrial hygienist or safety and health professional when planning a production workshop.