Foodware, sculpture, decorative tiles, dolls and other ceramic or clay items are made in both large and small professional studios and shops, classrooms in public schools, universities and trade schools, and in homes as a hobby or cottage industry. The methods can be divided into ceramics and pottery, although terminology can vary in different countries. In ceramics, objects are made by slip casting—pouring a slurry of water, clay and other ingredients into a mould. The clay objects are removed from the mould, trimmed and fired in a kiln. Some ware (bisque ware) is sold after this stage. Other types are decorated with glazes that are mixtures of silica and other substances which form a glass surface. In pottery, objects are formed from plastic clay, usually by hand-forming or wheel-throwing, after which they are dried and fired in a kiln. Objects may then be glazed. Slip cast ceramics usually are glazed with china paints, which are commercially produced in dry or liquid pre-packaged form (figure 1). Potters may glaze their ware with these commercial glazes or with glazes they compound themselves. All types of ware are produced, from terra cotta and earthenware, which are fired at low temperatures, to stoneware and porcelain, which are fired at high temperatures.
Figure 1. Decorating a pot with China paints.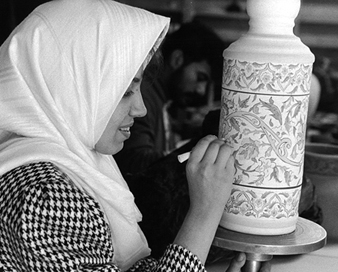 Clay and Glaze Materials
All clays and glazes are mixtures of silica, aluminium and metallic minerals. These ingredients usually contain significant amounts of respirable-sized particles such as those in silica flour and ball clays. Clay bodies and glazes are composed of essentially the same types of minerals (see table 1, but glazes are formulated to melt at lower temperatures (have more flux) than the bodies on which they are applied. Lead is a common flux. Raw lead minerals such as galena and lead oxides derived from burning car battery plates and other scrap are used as fluxes, and have poisoned potters and their families in some developing countries. Commercially sold glazes for industrial and hobby use are more likely to contain lead and other chemicals which have been mixed and pre-fired into powdered frits. Glazes are formulated to mature in either oxidation or reduction firing (see below) and may contain metal compounds as colourants. Lead, cadmium, barium and other metals may leach into food when glazed ceramic wares are used.
Table 1. Ingredients of ceramic bodies and glazes.
Basic constituents

 

 

Clays (hydroaluminium silicates)

Alumina

Silica

Kaolins and other white clays

Red iron-rich clays

Fire clays

Ball clays

Bentonite

Aluminium oxide, corundum, usual source in glazes is from clays and feldspars

Quartz from flint, sand, diatomaceous earth; cristobalite from calcined silica or fired silica minerals

Other ingredients and some mineral sources

Fluxes

Opacifiers

Colourants

Sodium, potassium, lead, magnesium, lithium, barium, boron, calcium, strontium, bismuth

Tin, zinc, antimony, zirconium, titanium, fluorine, cerium, arsenic

Cobalt, copper, chrome, iron, manganese, cadmium, vanadium, nickel, uranium

Sources include oxides and carbonates of metals above, feldspars, talc, nepheline syenite, borax, colemanite, whiting, lead frits, lead silicates

Sources include oxides and carbonates of metals above, cryolite fluorspar, rutile, zirconium silicate

Sources include oxides, carbonates and sulphates of metals above, chromates, spinels and other metal complexes
Other special surface treatments include metallic lustre glazes containing tack oils and solvents such as chloroform, iridescent effects obtained by fuming metallic salts (usually chlorides of tin, iron, titanium or vanadium) onto surfaces during firing, and new paints containing plastic resins and solvents, which look like fired ceramic glazes when dry. Specially textured clay bodies may include fillers such as vermiculite, perlite and grog (ground fire brick).
Exposure to clay and glaze ingredients occurs during mixing, sanding and spray-applying glazes, and when grinding or chipping fired glaze imperfections from the bottoms of pottery or from kiln shelves (figure 2). Cleaning kiln shelves exposes workers to flint, kaolin and other kiln wash ingredients. Silica dust from fired kiln wash or bisque is more hazardous because it is in the cristobalite form. Hazards include: silicosis and other pneumoconioses from inhalation of minerals such as silica, kaolin, talc and fibrous amphibole asbestos in some talcs; toxicity from exposure to metals such as lead, barium and lithium; dermatitis from sensitizing metals such as chrome, nickel and cobalt; cumulative trauma disorders such as carpal tunnel syndrome ("potter's thumb") from wheel throwing; back injuries from digging clay, lifting 100-pound sacks of bulk minerals or from wedging (hand working clay to remove air bubbles); slips and falls on wet floors; shocks from electric pottery wheels and other equipment used in wet areas; allergies to moulds in clay; fungal and bacterial infections of nail beds and skin; and accidents with clay mixers, pug mills, blungers, slab rollers and the like.
Figure 2. Exposure to clay and glaze dusts while hand sanding a pot.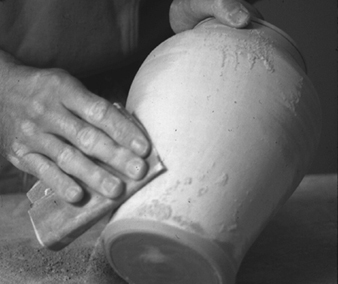 Henry Dunsmore
Precautions: outlaw open lead burning; use substitutes for raw lead, lead frits, cadmium and asbestos-containing materials; isolate work from family areas and children; practice housekeeping and hygiene; control dust; use local exhaust ventilation for glaze spraying and dusty processes (figure 3); use respiratory protection; work with adequate rest periods; lift safely; guard machines; and use ground fault interrupters on wheels and all other electrical equipment.
Figure 3. Local exhaust ventilation for clay mixing.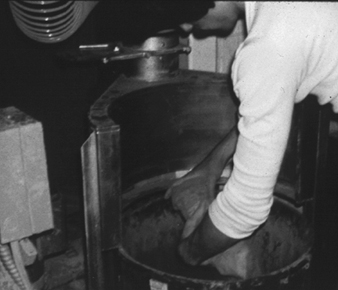 Michael McCann
Kiln Firing
Kilns vary from railroad-car size to a few cubic inches for firing test tiles and miniatures. They are heated with electricity or fuels such as gas, oil or wood. Electric kilns produce ware fired in primarily oxidizing atmospheres. Reduction firing is achieved by adjusting fuel/air ratios in fuel-fired kilns to create chemically reducing atmospheres. Firing methods include salt firing, raku (putting red-hot pots into organic matter such as damp hay to produce a smoky reduced clay body), climbing kilns (many-chambered wood or coal fired kilns built on hillsides), sawdust firing (kilns packed tight with pots and sawdust) and open-pit firing with many fuels including grass, wood and dung.
Primitive fuel-fired kilns are poorly insulated because they are usually made of fired clay, brick or mud. Such kilns can burn large amounts of wood and can contribute to fuel shortages in developing countries. Commercial kilns are insulated with refractory brick, castable refractory or ceramic fibre. Asbestos insulation is still found in older kilns. Refractory ceramic fibre is in very wide use in industry and hobby kilns. There are even small fibre kilns which are heated by putting them in home kitchen microwave ovens.
Kiln emissions include combustion products from fuels and from organic matter that contaminates clay and glaze minerals, sulphur oxides, fluorine and chlorine from minerals such as cryolite and sodalite, and metal fumes. Salt firing emits hydrochloric acid. Emissions are especially hazardous when fuels such as painted or treated wood and waste oils are burned. Hazards include: respiratory irritation or sensitization from aldehydes, sulphur oxides, halogens and other emissions; asphyxiation from carbon monoxide; cancer from inhalation of asbestos or ceramic fibre; eye damage from infrared radiation from glowing hot kilns; and thermal injury and burns.
Precautions: use clean-burning fuels; design fuel-efficient, well-insulated kilns; substitute refractory brick for asbestos or ceramic fibre; encapsulate or remove existing fibre insulation; locally vent indoor kilns; locate kilns in areas free of combustible materials; equip electric kilns with two automatic shut-offs; wear infrared-blocking goggles and gloves when handling hot objects.